The Portland Indie Game Squad (PIGSquad) is setting up a special PIG Pavilion for up-n-coming regional developers to show off their games. Prepare to demo 16 new and unreleased games - including 4 VR titles - at the PIGSquad display at BetaCon!
Tickets available online now and at the door, April 15 & 16 at the Oregon Convention Center.
Read this post and visit pigsquad.com/betacon to learn about each of the developers and their games. Event tickets and more info at betacon.org.

‍
TACOMA
The Venturis Corporation wants their AI back, and you're the one for the job. Board the evacuated Lunar Transfer Station Tacoma and explore what happened to its crew by interacting with the 3D recordings they left behind.
Tacoma: The next game from the creators of Gone Home. Coming 2017 to Xbox One and PC
‍
RAY'S THE DEAD
Life can be very challenging when you don't remember who you are. It's even more difficult when you're dead….err...Undead. In Ray's the Dead, you play as Ray, a freshly resurrected zombie with an unknown past. Experience Ray's current life as a zombie as well as his past when he was still alive through fully playable flashbacks. The flashbacks not only fill in the blanks of Ray's previous life, but unlock new abilities that he can use in his present form.
‍
#BREAKFORCIST
#Breakforcist is the world's FIRST breakfast/exorcism-themed endless arcade-style brick breaker! Use your magic paddle & ball to rescue breakfast from the clutches of the evil demon "Howdy" and get paid like its your job.
‍
TINY SWORDS SMAAASH!
A Super Smash Bros. style board game with cute monsters at your command! Choose from Mermaid, Sweet, Spooky, or Moon, then lead your team into battle. Toss your friends' monsters off the stage and win the game! It's time to SMAAASH!
‍
QUEER QUEST
A queer point-and-click adventure game with story-oriented puzzles.
‍
‍
‍
‍
PLUNGE
Plunge is an isometric, turn-based roguelike with puzzle elements, set for release in August of 2017 on Android, iOS, and Steam platforms. Plunge dares to ask gaming's toughest question, "what if Pokemon sliding ice levels were actually fun?"
‍
QUADRADIGGER
QuadraDigger is a frenetic rotating block puzzle game of speed and strategy with exciting new mechanics to tax your reflexes and improvisation.
‍
‍
‍
STOP THEM
Virtual reality wave defender game with unique throwable items and intense game play.
‍
‍
‍
‍
REZPLZ
In RezPlz, you control two players (or local 2p co-op) to traverse six evil wizard's keeps of the Dark Arcanum. The game features traditional platforming elements, as well as puzzling elements in the form of coordinated movement and a unique death mechanic where one brother dies in unique ways to allow the other brother to advance.
‍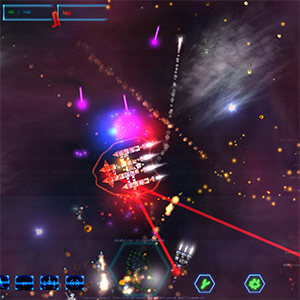 MODULUS:PHASE ONE
Modulus:Phase One' is a space RTS 4x game featuring modular ship design and full fleet combat! Can you save your people's world from annihilation?
‍
‍
SHIP IT
Fast-paced block stacking VR fun in a playful factory setting. Pack a box with colorful shapes, then ship it to earn your wage. Filling VR boxes is physically satisfying as you grab blocks, rotate them with your hands, and smash them home.
‍
HOLY POTATOES! WE'RE IN SPACE?!
Explore a veggie-filled universe with Cassie and Fay on their journey to rescue their grandfather! Defeat your enemies in strategic turn-based combat, manage your spaceship, and explore dozens of procedurally generated planets, stars and galaxies!
‍
CRESCENT LOOM
Construct physics-based underwater creatures and weave scientifically-accurate neural circuits in order to explore an alien ecosystem.
‍
‍
‍
CODE DUELLO
VR Sword fighting game, prioritizing the feel of a real sword fight with elaborate physics vs. graphical realism or scope.
‍
‍
‍
TRIP
Trip is an arcade style game featuring fast-paced first-person shooter action. Psychedelic colors and electronic music makes this game an exciting, fast-paced challenge. Traveling at high speeds, you will destroy enemies and collect power-ups, building up enough energy to complete levels.
‍
SHMEXBALL
Shmexball is the brutal, ultra-popular, galactic arena sport played by the abnormal heroes of the Dual Galaxies in the pursuit of perfection, glory & favorable economic trade deals.